Entry posted by CROGGS ·
474 views
Game: KnifeBoy
Developer: Karl Rune Peter Fredriksson
Release Date: October 18 2019
Genre: MetroidVania Adventure

So! KnifeBoy! It's a weird-ass game (as you can see from its screenshots) made by Karl Rune Peter Fredriksson , it has a very strange atmosphere to it with surreal visuals and music that makes you feel like you're in some alien world and lends itself to a very unique experience, but beyond that, it's honestly just a mediocre MetroidVania. Now, I don't consider myself a huge fan of the MetroidVania genre, but if you put a good MetroidVania in front of me, I'll have a dandy ol' time. I grew up playing lots of games that had you accessing new areas with new abilities and stuff, like The Legend of Zelda, Pokemon, and even more recent games like Shovel Knight I love finding secret areas with some kind of new ability or item I have. When done well, the sense of progression in these games feels very deserved and satisfying when you finally see what's behind those boulders you've passed like 50 times now. Doing this well isn't the easiest thing in the world though, a lot of things have to go right to have the player really get that feeling. What this game excels at though is the whole strange, surreal look and feel of everything. I really like games like this, games like LISA and artists like Jack Stauber, do an incredible job of just making people revel in the absolute chaos and 'what the fuck is happening' of it all, and at many points, KnifeBoy does just as well. Karl's creativity really shines through in a lot of really shocking and unexpected ways, nothing was off-limits, and he just did whatever the hell he wanted, and I just loved it. That said though, it did still suffer from a lot of problems.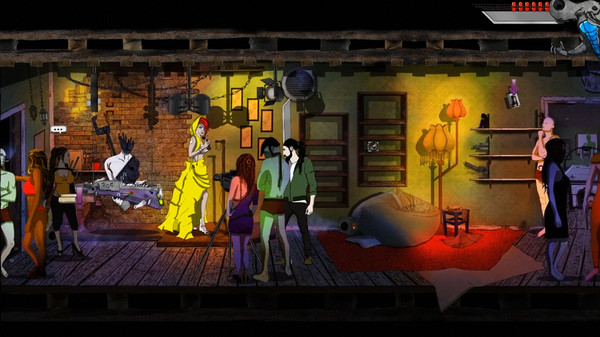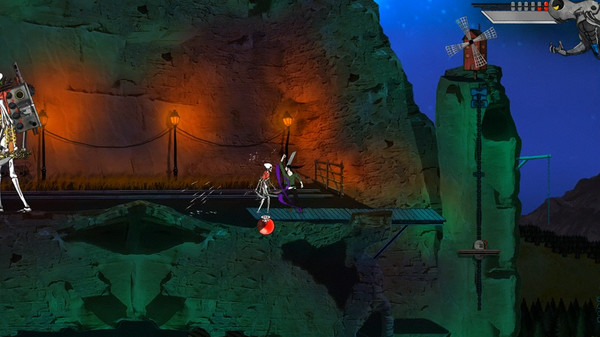 The visuals, which I can only describe as strange, is the first thing you'll notice. It has an admittedly amateurish feel to it, but that doesn't mean it looks bad, not at all! A lot of the visuals look great and fit the theming of the game perfectly! They create a chilling atmosphere of a weird alien world with intrigue and oddities everywhere. The game seems to have a solely comic book style to it at the beginning, it mostly retains this style, but noticeably diverges from this in many parts pretty effectively, only adding to the chaos of it all, with some assets being pngs of actual real-life rock faces, which I thought was pretty funny. The use of light is also used especially well to just keep building that odd atmosphere. The character designs are pretty much strictly comic book looking, which Karl's done a good job with! The designs themselves range from strange, to typical comic book supervillain, to gorey, to delightfully absurd, to sexual (if there's any rule 34 artists reading this, you'll have a field day with this game). The most confusing design of all though in my opinion is that of KnifeBoy himself, like, there's some pretty weird stuff in this game, but I still genuinely have no idea how Karl came up with the idea of having a giant blade coming out of a guy's forehead. It fits the weird theme of the game alright, but the giant blade as next to no real purpose, it's never used and rarely mentioned, with the only time it ever becomes relevant being with his spin attack and overdrive attack. And I've always wondered, how is going through doorways with his head? How uncomfortable is it to sleep? And wow that musta been hella painful for his mom.
WE WANT ANSWERS KARL!... or at least I want answers 

Alright, anyway, the story in KnifeBoy is one thing that, at least the steam page seems to pride itself on, which is weird to me, because in my opinion, the story was probably the weakest part of the whole game. The biggest problem, at least for me, is how overwhelming the game is with introducing new characters, organizations, and places. The opening cutscene just name drops 8 different things within less than a minute, then just throws you into the world, and it continues to do this kind of thing throughout the game, making following the plot really hard. Or maybe I'm just a big dumb idiot who can't process more than 2 things at a time, I dunno, but that was my experience. Anyway, the plot basically comes down to "save girlfriend from the big bad", with an even more generic evil shadowy organization, which is anonymous for some reason, I thought it would be some social commentary about the dangers of hackers or something, but I didn't see any of that in my playthrough, the fact that the big bad is anonymous never plays into the narrative or gameplay at all during my playthrough, it could have just as easily been the lamp fan club or something. The ending was also really unsatisfying and made no sense to me, it just abruptly ends out of nowhere, with nothing being resolved and almost nothing being revealed.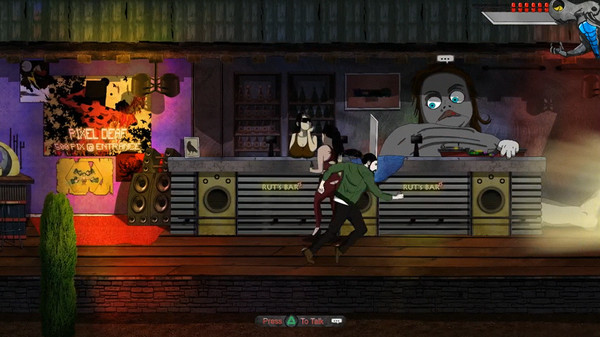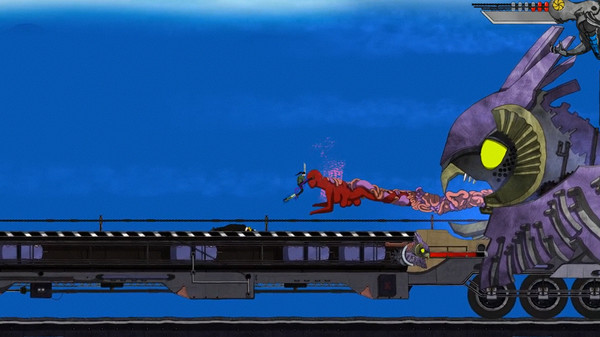 Something else that is supposed to add to the story are comic book pages which you can find throughout the game, which reveal KnifeBoy's past, and there is a full legitimate comic which serves as in interesting look into the past, and although it is at times unnecessary, not giving insight into the game itself, it is an interesting read. I just wish there was more done within the game since it was an admittedly boring change of pace to sit down and read an almost full-length comic. The game does shine with storytelling in a few spots, and it isn't usually with dialogue or cutscenes, but with the world itself, with boss designs, environments and secrets. Little sprinkles of lore that made me intrigued by who the bosses are and why they are where they are, it made me imagine what their stories could possibly be. My favourite character is actually one that you can only briefly meet twice, Karl Skandal, but whose personality, knowledge, location and design made him really interesting to me.
The gameplay of KnifeBoy is pretty standard Metroidvania punching and jumping with some abilities thrown into the mix. However, the level design can sometimes be frustrating, with platforms being just too short to reach with a normal jump, but feel like overkill to use a double jump on. Then there are other platforms with spikes that are just awkward to get through. But the worst of this is the overworld, where unnecessary obstacles and platforms are just placed around at what looks like random, which makes going from place to place in the overworld frustrating and unsatisfying. The attacks are also pretty unbalanced and lead to some pretty repetitive fights, one ability you have from the beginning, the "overdrive" ability is treated like a super-powerful burst of energy you can only use a few times. But in practice, you have to be really precise with how you hit things with it, it forces you to stop making you unnecessarily vulnerable, and was completely useless in boss fights since it did just as much as your standard punch attack. The punch attack is also pretty overpowered, especially for your first attack given, you can stay suspended in the air for a while just by spamming the punch button and it seems to do more damage than the overdrive in boss battles, I always end up resorting to just punching since it's easy to control, does the most damage, has no cooldown and has a relatively generous range. Using other attacks and abilities you get just open you up to getting hit, with no benefit in damage, speed or controllability, with the dash you get near the beginning being a small exception. Overall, fighting just got boring for me, cause the best way to do it was to just spam the punch button with no strategy involved.

On one other small note, there is a day/night system in KnifeBoy where certain areas are inaccessible during the day or night, this was just really annoying in my experience, and didn't add anything to the game. Although the game looks beautiful at night.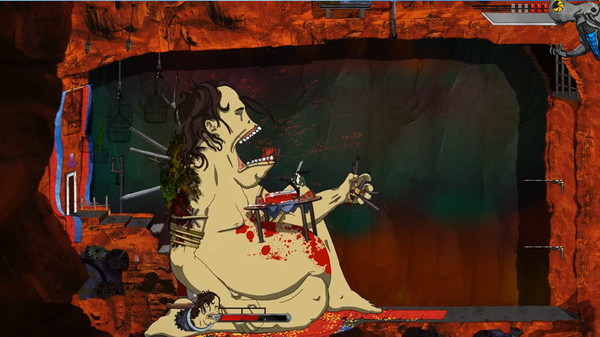 Boss battles, however, were pretty fun, they were a highlight of the whole experience for me, boss battles in this game are a culmination of all the stuff I like about this game! Bat shit crazy stuff happening, you wondering what the lore behind each boss is with their weird designs and environments, fun and satisfying platforming,  and secrets which, if found, let you straight up skip some boss fights. My only problem with them though is the same issue I was talking about in the last paragraph, they all just devolved to spamming the punch button, cause nothing else was worth the effort or risk. I also wish that bosses had more plot relevance, and had some build up so that I at least had an idea of who I would fight before getting there, but that's a relatively small problem.



The music, OH THE MUSIC! The music is probably the most well-done thing in this game, I don't know if it's just my weird-ass taste in music, but, like 90% of the songs either fulfill their purpose perfectly in setting the atmosphere and feel of an area, or are just straight bangers. Karl can make you feel paranoid, scared, intrigued, excited, whatever he wants, the music in KnifeBoy is one of the reasons I kept playing and was excited and determined to continue despite all of its problems. Karl should definitely upload or release the soundtrack for the game because I would honestly add some of the tracks to my playlist.

Now, the biggest problem by far in KnifeBoy is how unpolished and buggy the whole game is. Bugs were so frequent that I sometimes honestly wonder if Karl even playtested the game himself. From being warped inside of walls when going through doors, to straight-up losing abilities you need to beat the game forever for no reason, to parts of the map that are straight-up incomplete, to buggy and jittery movement on awkward terrain, to dying by going through doors, to being able to go through objects when paused, to being able to walk around on loading screens, to tons of grammar and spelling problems, to crouching being buggy, to certain abilities being buggy in certain areas. There are so many problems, I've had to restart my playthrough from the beginning 3 separate times because of softlocks to do this review. After losing an ability I needed to finish the game which I lost for good out of nowhere again, I even tried contacting Karl, which was very hard to do (open up your dms on twitter man pls). I needed to press F7 which brought the ability back for some reason? There was no way that I saw, that the player would know to do this, so, if unless you're lucky and know about the F7 thing, beating the game would literally be impossible, to no fault of your own.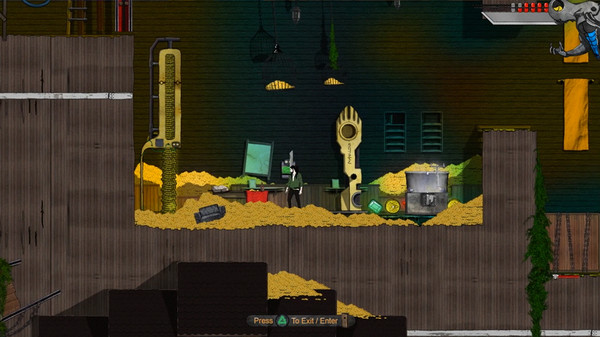 Overall, KnifeBoy is a really interesting game for its weird atmosphere alone, but doesn't really hold up otherwise, with its many problems outweighing the good things about the game in my opinion. My experience with KnifeBoy was frustrating and unsatisfying, but it definitely still has value in its unique feel, kick-ass music and occasional nice little moments.

Tell me what you think in the comments! If you've played KnifeBoy, do you agree? Thanks for reading!

You can follow Karl on twitter @KarlKaze