Entry posted by CROGGS ·
295 views
Game: Shadow
Developer: Grit
Release Date: Early 2020
Play the demo for free on itch.io!
Current Version: D1.15
Genre: Spooky open-world survival
I've never been a huge fan of indie horror games, they usually rely very heavily on jump scares and are usually really boring and generic. Relatively simple games like Five Nights at Freddy's and Slender: The Eight Pages have inspired a lot of games copying only the most surface-level parts of these games, making games that have little to no effective atmosphere, or suspense. They decide to use an overabundance of gore, jump scares and a lot of pointless walking around, ignoring world-building, exploration and building that sense of dread and suspense only the best games can truly conjure in most players. And although Shadow is just a demo, in that simple 10-minute experience, this game never used jump scares or gore, which have become, in my opinion, very overused in games today, instead intentionally leaning more towards creating a sense of paranoia and an atmospheric unease in the player as they explore the island. With the developer, Grit promising to only expand on these ideas in the final build, with a bigger world, more things to interact with, and a smarter monster.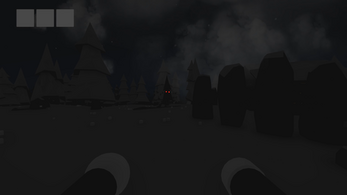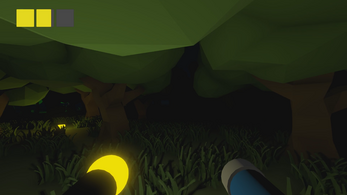 The art style of the game is very simplistic and low poly, the style is executed well and looks professional. This simplistic style serves the game well, it was obvious to me what is what, making navigation and recognition very easy. This simplicity also made exploration, the main game mechanic, a lot more satisfying, as special attention has been paid to make sure each area of the island is distinct and can be told apart, with the easily accessible map only adding to this fact. This art style did take away from the suspense and dread I assume I was supposed to feel with the non-threatening textures and shapes around me, but it seems to be the feel the game is going for, and if that's the case, it does its job well there too. 
The game itself is very simple in what the objective is. You have to find green cubes to power a battery, which powers a boat, which lets you leave the island. Doing this just involves walking around the island and look for the many green cubes around the map. They can be found throughout the unique parts of the island, either behind rocks, in the middle of some trees, in a house, and on bridges. The fact that there are more cubes than you need to collect scattered across the map lead to each playthrough being unique, one person who plays might find the village, while another might never see that area, but find the winter area, or the rocky cliff, or the cabin in the woods, or the forest. Exploration is certainly rewarded here, and even thinking outside the box with one certain area. This also allows for multiple playthroughs, where you can explore the entirety of the island, this concept will surely be expanded on in the full version. My hope is that more varied and interesting locations will be added, where little pieces of lore may be hinted at through the environment and more interesting environments, or even more of a sense of direction when you first start, since when I first started playing and wandering around, I found myself getting bored, and almost had to force myself to continue. Having an engaging beginning is key to any game, and if not done right means that players won't see the majority of the game.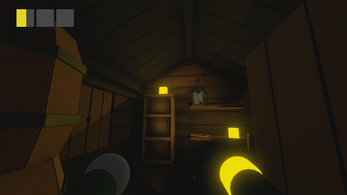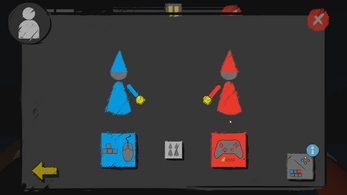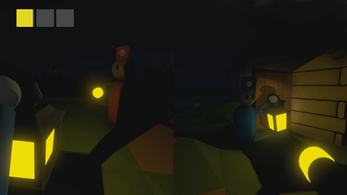 One thing that this game has that many other similar indie titles lack is multiplayer! Multiplayer can be a great extension to your experience or alternative play-style, experiencing horror type media with friends transforms into a new comedic experience that only other people can offer. Combining this with a system that requires both people to work together can also amplify your enjoyment of the game altogether, but only when executed properly. And Shadow certainly doesn't do a bad job of integrating multiplayer! In single-player, your left and right hand have different functionalities, it would be quite difficult, or impossible to play without one of your hands. The game uses this concept and gives each player the function of one hand, therefore rewarding cooperation and staying together. This dynamic did a good job at mimicking everything single player does well, but with a friend (or maybe they're not a friend, I dunno who you play with). It also allowed for some fun, playful situations to ensue between me and my friend. It does, unfortunately, require you to have a controller, which not everyone has, limiting who can play multiplayer. There should be some other way to split the keyboard to accommodate a second player like a lot of flash games do.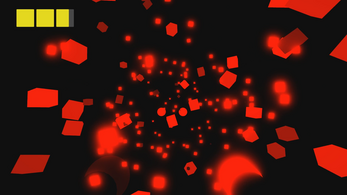 The monster that chases you is a basic generic monster with red eyes, the simplicity of the monster complements the simplicity of the overall game though, and its appearance alone makes it obvious that it is something to be avoided. It also has a weakness you can exploit, where you charge up a beam of light to temporarily stun it. This basic mechanic seemed fine enough at first, but as I played through the game more, I realized that the monster was unfairly hard to see coming at times. When I looked around me to see if it was near me, I sometimes wouldn't see it, even though it was relatively close, but it was facing away from me or behind a tree or rock or house, giving me a false sense of security, then suddenly dying to it without enough time to react. This got especially frustrating with closed quarters in the village, with me dying over and over and over with seemingly no way to stop it. Changes for the monster are planned for the final build though, so I'm definitely looking forward to that.
Overall, Shadow is a game that's fun to play and has a lot of promise, with many of the problems in the demo planned to be fixed in the full version. I, personally am looking forward to the future of Shadow and what it'll have in store with these mechanics and the great sense of exploration Grit has already made, a more polished version of this demo with more content sounds awesome. 
Tell me what you think about the demo in the comments below! I know the developer would love all the feedback he can get! Thanks for reading!

You can follow the developer on twitter at @GAMEdevOVER